What type of patio furniture is the most weather resistant - THE 6 MOST DURABLE OUTDOOR FURNITURE FRAMES
You may want to create your perfect outdoor space but don't know which outdoor furniture will last longer.
Today there are so many inexperienced retailers are selling outdoor furniture with minimal information about the product. These People with little knowledge of about outdoor furniture will likely telling you and convincing you that the quality of their products are the best and will "last for years."
For some of you this may be your second time around buying a furniture set and hope it will last longer, anyway I will give you a better understanding of outdoor furniture and what type of frame material is the most durable.
6 Strongest Outdoor Furniture Frames:
Choosing the right frame material is the most important thing to consider when buying outdoor furniture. It will determine how durable the furniture can be and how long it will last.
I have listed below are the strongest and most reliable frames outdoor furniture has to offer.
-Aluminum

-Cast Aluminum

-Cast Iron

-Wood

-Stainless steel

-Wrought Iron
Wood
Wood is naturally beautiful with its unique texture. wood gives a comfortable feeling to any outdoor space and get you closer to the nature. However, wood requires refinish and maintenance every two years minimum to maintain the color and protective finish. Otherwise they will rotten in time. The average of lifespan of wood furniture for outdoor with care is around 5-6 years.
Lifetime= 5-6 Years
Stainless Steel
Stainless steel offers a modern style to any outdoor space. It is consider a superior outdoor material. It has found its way into outdoor furniture with amazing results with its resistance to corrosion and oxidation, it makes an excellent choice. It is a perfect choice for people who doesn't have time to maintain their outdoor furniture.
Lifetime=20+ years.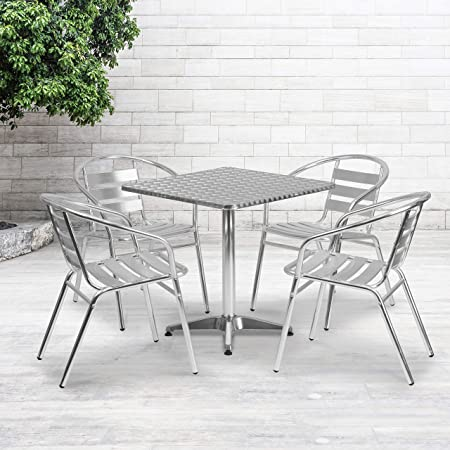 Wrought Iron
Wrought Iron is one of the most durable and longest lasting type of outdoor furniture available, many times lasting decades. Truly an investment that keeps on giving, wrought iron furniture also has heavy frame. The Style can vary from vintage to modern look, due to its characteristic it can formed into multiple shapes. However, it will get rusted unless its surface has been treated properly with E-Coating and Powder Coating. It does required regularly maintenance every two years. It will never go out of style and the value of furniture will increase as time goes by.
Lifetime= 25+ years.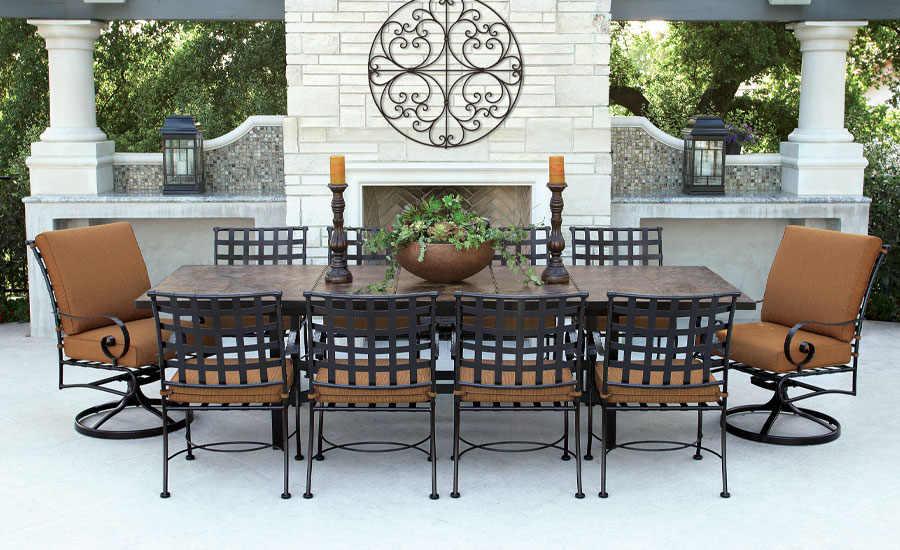 ALUMINUM FRAMES 
Aluminum is the most common type of outdoor furniture frame material. Aluminum is a light weight and durable metal. Perfect for outdoor furniture and is the least expensive type of furniture frame to make because of an abundance of aluminum. There are three main types of aluminum outdoor furniture frames to consider, , cast and wrought aluminum.
Lifetime= 20+ years.
Cast Aluminum
This frame material is heavier and more design oriented than aluminum. The only difference is that the molten aluminum is poured into a cast mold, allowing for intricate designs and shapes that would otherwise not be possible to make. Standard aluminum outdoor furniture is usually hollow, unlike cast aluminum that is slightly heavier but denser and more durable.
Lifetime= 15+ years.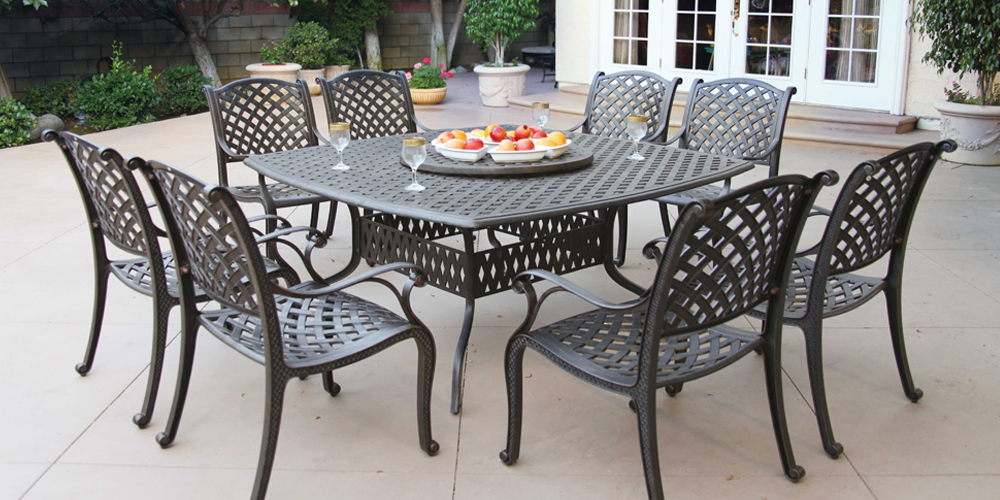 Cast Iron 
Cast Iron is the heaviest among these material and like the cast aluminum it can only be made by pouring into a cast mold with limitation of designs and shape. This material can be easily rusted if it's not taking care.  
Lifetime= 20+ Years.
---
Post time: Oct-11-2022