Using metal patio furniture is an excellent, durable way to open up your outdoor space for summer parties, neighborhood cookouts, and meals with your family. The strength, weather resistance, and pricing of of metal patio furniture will determine how many years of use and enjoyment you get out if it. But there are a variety of metal furniture types and constructions that meet different needs, depending on how you intend to use your patio. Read on to learn more information about choosing the right metal patio furniture for your space.
Choose Furniture Made From Durable Metal
-Metal patio furniture is usually made from aluminum, steel, or iron. Each metal offers unique benefits and limitations. The key is to find a patio set that offers the ideal balance of cost effectiveness and durability for your climate and your budget. The chart below offers a quick and handy breakdown of each metal's qualities.
-Because it is naturally anti-corrosive, aluminum doesn't need a protective coating to withstand the elements. Aluminum furniture can feature solid frames or frames made up of hollow tubes. The former is stronger and heavier, but the latter is much less expensive. If weather resistance is a key concern for you but you're on a tight budget, then a tubular aluminum set might be the best choice for your metal patio furniture.
Iron
-Cast iron is a very dense metal, so it is exceptionally strong and heavy for metal patio furniture. While prices vary, the average cast-iron patio set is typically more affordable than a steel or aluminum set. The only drawback is that iron furniture doesn't resist corrosion very well on its own. If you opt for an iron furniture set, make sure you find one that is powder coated to withstand water damage.
Steel
-More flexible than iron, steel patio furniture can be crafted into comfortable shapes more easily than iron furniture. Steel also weighs less than iron, but it is very durable and able to handle long-term, repeated use. Some steel alloys are susceptible to rust and corrosion, so opt for a metal furniture patio set made from stainless or galvanized steel to avoid rusting.
Find a Set With a Weather-Resistant Finish
Not all metal patio furniture requires weather-resistant finishes. Aluminum and stainless steel can handle common rain and snow conditions without any extra help. But some metals, like iron and certain types of steel, do require special coats to keep them in good shape. While shopping, look for a metal furniture patio set that features a powder-coated finish, an anti-corrosion coating, or some other kind of waterproof finish.If the finish on your furniture gets scratched or chipped, it is important to cover the damage with a spray-on treatment to prevent it from rusting.
Look for Comfortable Seats & Cushions
Metal is hardy and strong, but it's not the most comfortable material. To ensure you and your guests are comfy and at-ease on your patio, be sure to choose a metal patio furniture set with ergonomically shaped seats and plush cushions. If you love how a certain patio set looks but it doesn't include cushions, you can always try it without cushions to see how you like it. If you decide that you do need cushions for the set, you can always purchase them separately.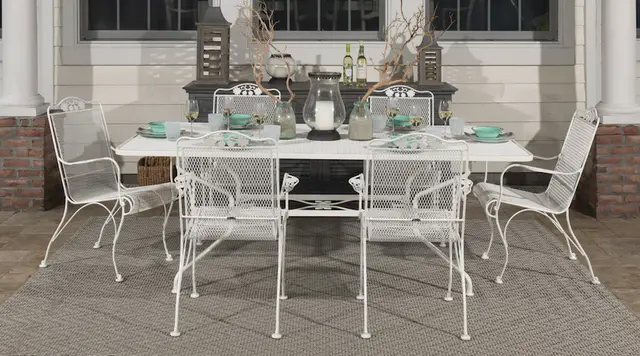 ---
Post time: Sep-29-2022